Ruger GP-100 .40 S&W - 6 Shot / Champion Model (.050 Thick) (Qty: 10)
SKU :
ruger gp-100 40sw-050
Moonclips are faster to use than a speedloader and allow quick and reliable ejection of the fired rounds, with a quick reload of all chambers at once.
Ruger GP-100 Champion Model .40 S&W Moon Clip

Enables the firing of .40 S&W cartridges in the Ruger GP-100 10mm revolver, enabling correct headspace for proper ignition.
Ruger GP-100 Champion Model 10mm cylinder now has the ability to fire .40 S&W cartridges.
Clips are .050 thick Stainless Steel.
Highest standards of quality & proper fitment. No Tools are Included.
Loading & Unloading Tools are HIGHLY RECOMMENDED for this Moon Clip.
Fitment was designed to fit Winchester, Remington and CorBon. Other brands may fit tighter.
With the .050 moon clips headspace is approximately .010, as it should be.
Made in America!
Order your moon clips, moon clip tools and revolver accessories from TK Custom™ today.
Moon clips are a reloading device/method that makes it much easier to load a revolver cylinder with all your cartridges at one time. No fumbling, while loading your cylinder with rounds individually and possibly dropping some of them on the ground. No speedloader to pick-up off the ground after you load your revolver cylinder.
All of our products are "Made in the USA" on state of the art machinery, to exacting tolerances of .00001 thousandth's of an inch. Our twelve step manufacturing, inspection process insures the very highest quality moon clip and they are guaranteed for a lifetime. TK Custom™ simply delivers the highest quality products in the industry period!
Moon Clip Loading & Unloading Tools are recommended for this moon clip.

Moon Clip Loading Tool Moon Clip Unloading Tool
No Tools are Included. Photos for illustration ONLY!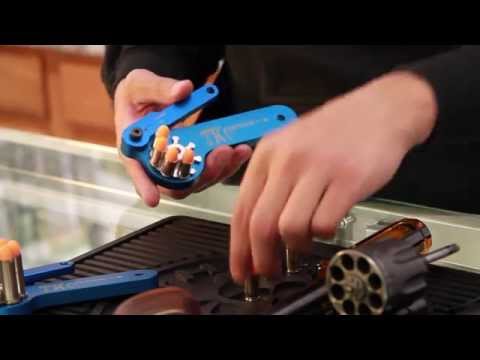 Brief Demonstration on How to Load and Unload Moonclips by TK Custom - YouTube
Opens a new window tab. Watch and just close the tab to return to this page.
;